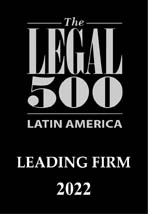 Mannheimer, Perez e Lyra continues to be ranked as one of the best firms in Brazil by the 2022 edition of The Legal 500
The publication ranked the firm both in litigation and arbitration, stating that it offers "personalised service; strategic vision; ethical behaviour; empathy; and in-depth knowledge of the law".
As mentioned by the publication, partner Sergio Mannheimer has a growing practice as an arbitrator in disputes before the ICC, "great academic credentials, and is knowledgeable of topics".
Partner Tomaz Lyra was recognized once again as 'leading individual' in the area of litigation. According to some of the firm's key clients, Tomaz "is highly qualified and offers solutions for complex cases in line with the most up-to-date jurisprudence and specific to the subject under analysis".
Partner Marcela Levy was listed once more among 'next generation partners' in the area of arbitration, being qualified as "an attentive, insightful and proactive partner", even "when faced with highly complex issues".
The firm's key clients also described partner Fernanda Aviz as 'young and very dedicated, with total mastery of the subject being discussed'.